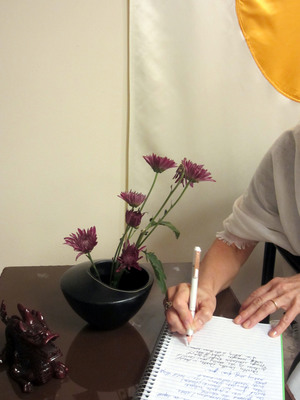 Writing is for Everyone!
with Steven Ray & Tunde Nemeth
Writing is for Everyone!

Writing, like meditation, is a solitary act that benefits greatly from practice with others. Come join us in exploring what happens when meditation gets involved with writing. This workshop draws on Natalie Goldberg's landmark book, Writing Down the Bones, and on work I've been doing with the Shambhala contemplative arts teacher Miriam Hall. The format is simple: a little sitting practice, writing practice, an opportunity to share, if you wish, in a safe space (not for critiquing, just for compassionate listening). Writing cues will be offered, or you can write about a topic of your choice. Open to all. (You don't have to be a "writer.") Bring your favorite pen and a notebook. No meditation or writing experience necessary.
Some nuts and bolts:
1. This is a practice, not a formal "class" and not a closed group. Each session does build on the one before, to some extent, but registration remains open. So you can join anytime, even if you've missed all the previous sessions. (But please register.)
2. You don't have to register more than once. If you've signed up, you'll receive an email a few days before each session asking you to confirm your attendance for each class.
3. Suggested donation per session is $10. As with all our programs, your generosity helps keep the doors open and the lights on, coffee in the coffeepot and cookies on the table. If you can donate more, at any time, that helps others attend programs regardless of ability to pay.
Writing Is for Everyone! is part of the Palm Beach Shambhala Centre's Contemplative Arts program.
Check out the blog for more info (and other cool articles!):
http://palmbeach.shambhala.org/2017/01/24/heart-heart-writing/
http://palmbeach.shambhala.org/2016/04/12/writing-is-for-everyone/
Questions? Please contact Steven Ray at [email protected] or 561-670-4147.