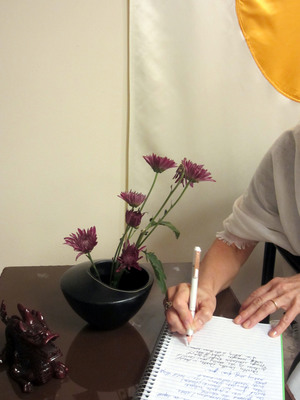 Writing is for Everyone!
Workshop Summary:
Meditation, contemplation, and creativity can be experienced in a variety of ways. There are many avenues to explore each, and writing can be a powerful path on that journey. Whether you are an experienced writer or new to the practice, you are invited to gather pen and paper, relax, and join us to write. Using timed writing periods and a variety of writing prompts, you can learn to recognize and release your inner critic and find your natural voice and inspiration. A safe and supportive environment is created and maintained to facilitate your own writing process. The workshops are based on Natalie Goldberg's book Writing Down the Bones and the contemplative writing workshop format of Miriam Hall. Please join us!
The workshop will be conducted online for the duration of the pandemic, the zoom meeting link will be sent after registration.
Detailed Workshop Description:
Writing as a contemplative art is essentially another form of meditation. The practice of sitting meditation is expanded upon with paper and pen to allow for deeper self-exploration and expression.
Have you ever wanted to explore your life experience and creativity through writing? Would you like to, but perhaps have hesitated, thinking you had to have special talent? Perhaps you cannot seem to get past your inner critic? Would you like to explore your unique voice and creativity more deeply? If the answer to these questions is yes, then we encourage you to join us for Everyone Can Write!
This workshop is titled Everyone Can Write because it is true! Everyone can write! Each of us has our own unique voice with which we express our experience. The challenge can be recognizing it and setting it free. This workshop can be a powerful tool in the process of self-expression.
The "Everyone Can Write" workshop follows the writing practices outlined by Natalie Goldberg, author of the book Writing Down the Bones, coupled with a contemplative writing workshop format designed by Miriam Hall, a Shambhala practitioner and contemplative writing teacher. The workshop structure allows for a safe, supportive, and creative environment to explore the practice of writing in all its forms. We do not critique or analyze. We simply listen. Previous participants have written in various styles, from poetry and haiku to journaling and fiction. Connecting to your inner, authentic voice and exploring that voice with compassion is the opportunity offered through these workshops.
The workshop includes a brief period of meditation and several timed periods of writing lasting from two to fifteen minutes which allows for a variety of writing prompts to be explored. Prompts will be given to the group as a "nudge" into the writing practice. These prompts are designed to encourage spontaneous inspiration. They can be a single word, a phrase or idea, or a random coupling of noun, verb or adjective. Other sensory prompts like music or pictures might also be used. Participants will also have the opportunity to share what they have written with the group. This is encouraged but not required.
The only tools you will need are pen or pencil, paper, and a curious and open heart. We hope you will join us!
About the facilitator:
Steve Ray is a Shambhala member and practicing Buddhist. He has attended writing workshops with Miriam Hall and has been facilitating writing groups through Palm Beach Shambhala for four years.