Ongoing Offerings
Our meditation center offers a rich array of weekly ongoing offerings free to the public. No prior meditation experience required to attend. All are welcome.
Open Public Sitting Hours
Our Sunday Morning begins at 9:30 am with meditation instruction, followed by sitting and walking meditation until approximately 10:45 am. We then conclude our morning practice with open group discussion about meditation, which may include either a reading or dharma talk. This is the perfect event for beginners and advanced practitioners alike. Tea and cookies are served. Come join us to begin your practice, or, deepen your practice and connect with a community dedicated to mindful living. For questions or additional information email Jessica Gurvit at [email protected] or Richard White at [email protected]
An evening of sitting and walking meditation. This is a simple and pleasurable opportunity to deepen our meditation practice quietly and peacefully. If you are new to meditation in our tradition, please email us at: [email protected] to receive meditation instruction at 6 PM Wednesday, 30 minutes prior to the group session.
Contemplative Arts
Miksang means "Good Eye" in Tibetan. We all have a good eye. It is part of our human makeup. We have the ability to see the world in a pure way. One that is free of preconceptions. This school of contemplative photography brings together both the art of photography, and the discipline of meditation as taught by meditation master and scholar Chogyam Trungpa. No experience necessary.
Our club will meet every third Saturday of the month at 10 a.m.; for location details please email us. [Please note: Our meeting on November 17, 2018 is cancelled, so our next meeting is on December 15].
Facilitators: Dorothy DiMambro, and Thomas Fitzpatrick
Heart of Recovery is open to anyone who is interested in exploring how the path of meditation and the path or recovery intersect. As human beings we are born with an inherent ability to be present for our experience. This innate quality can also become the basis for our healing. Being present for our experience brings us to the heart of recovery.
Find how to get to our Shambhala Center here.
Introductory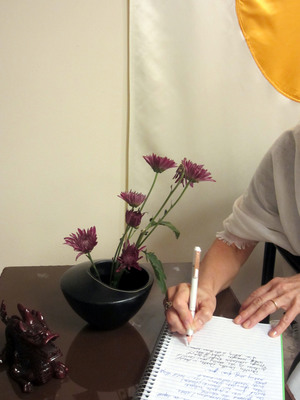 March 13th—August 7th
Writing, like meditation, is a solitary act that benefits greatly from practice with others. Come join us in exploring what happens when meditation gets involved with writing. Drawing on the work of Natalie Goldberg (Writing Down the Bones),
Continue »