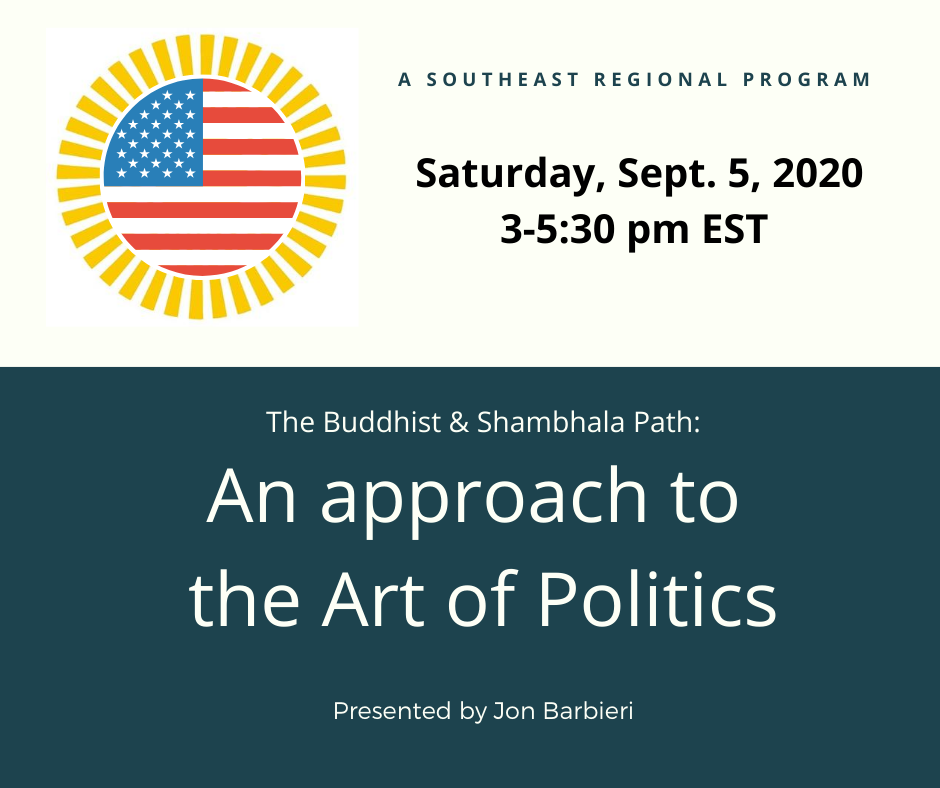 The Art of Politics, via Zoom
with Jonathan Barbieri
The Buddhist and Shambhala Path; An approach to the Art of Politics.
Join us for a discussion on how the Buddhist and Shambhala Path can be the basis for our engaging in the Art of Politics as we head towards the 2020 Presidential election-where it is time to simply and energetically, show up.
The Art of Politics is how we can engage in speech and activity that genuinely seeks to bring out the best in others and create a decent society. To do this while not utilizing aggression, denigrating others, or foster fear as ways to make change happen. To get actively involved in politics. To be practical-and make a difference in this year's election.
Our situation at this time in 2020 is extraordinary. Our society is being encouraged to be us vs. them. To be driven by fear, rumors, false information, and aggression. It's time to do something extraordinary.
This gathering is collectively hosted by the Southeast Shambhala Regional Centers. It will be done through Zoom. We will begin with a session of meditation followed by a talk, group discussion, and action steps.
Jon Barbieri has been practicing the Buddhist and Shambhala traditions for over 40 years. He has taught extensively throughout North America. He has engaged in several livelihood pursuits including consulting to cities and counties on workforce development and the development of contemplative co-housing communities. Over the past several years he has taught Mindfulness Meditation training to businesses and public agencies and given talks on Politics and Gun Control. He is a former Director of Shambhala Mountain Center